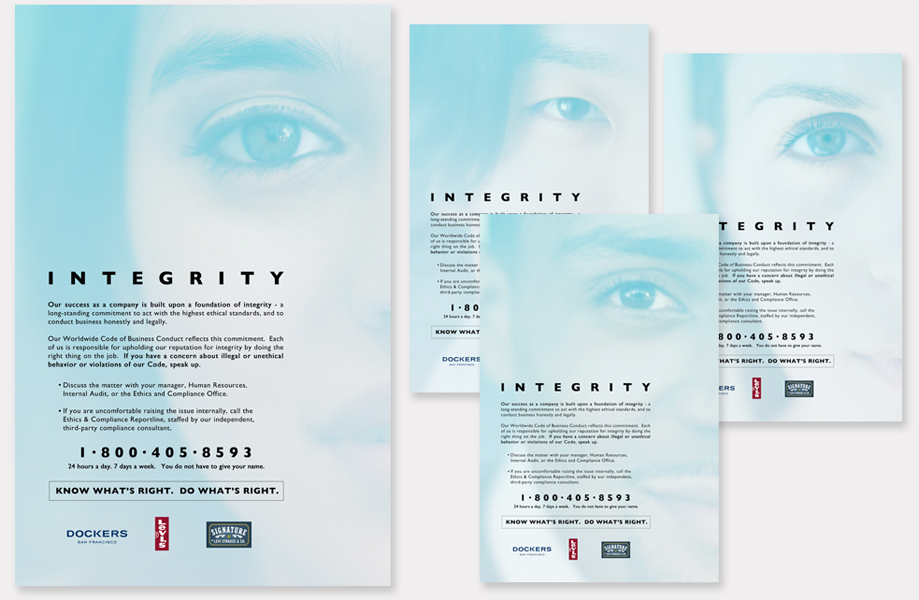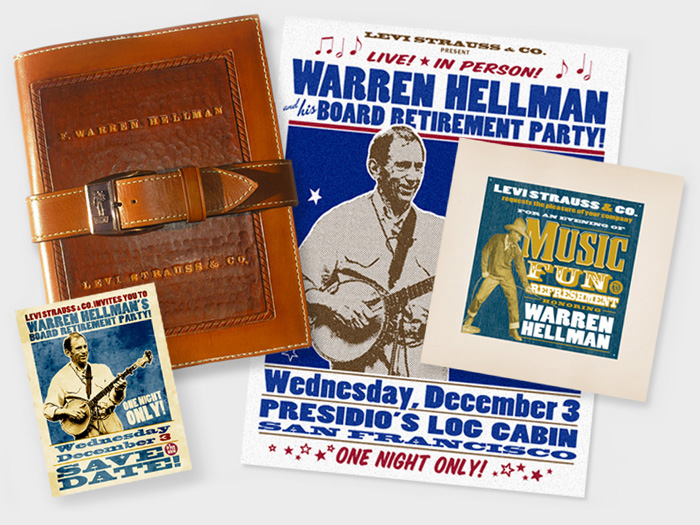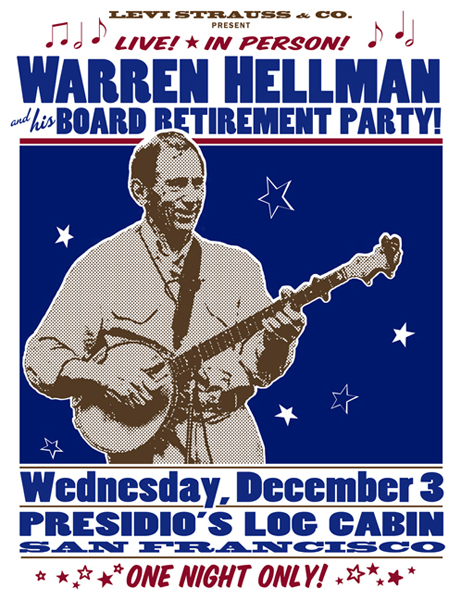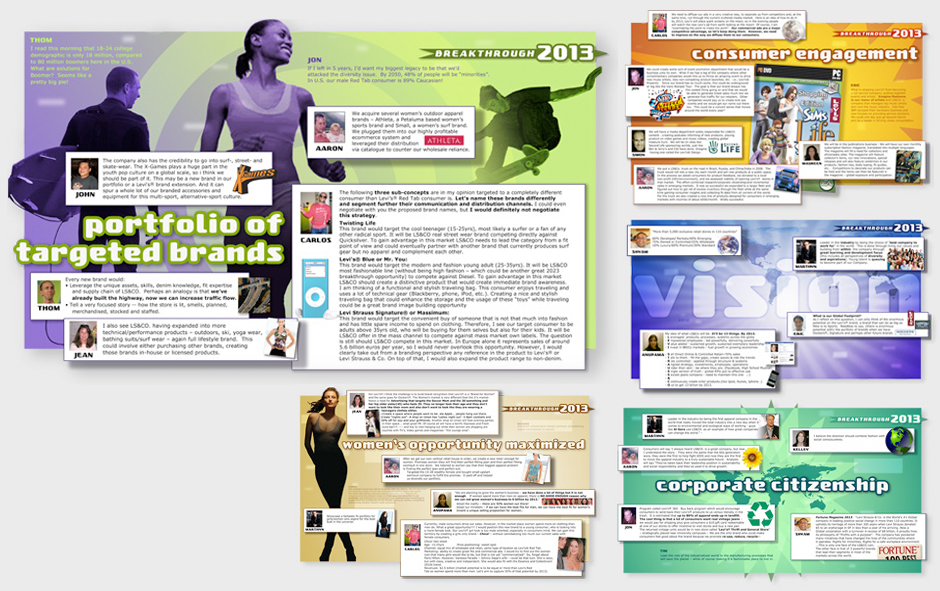 ASK LISTEN LOVE, a logo for the practice of author Allison Post.
DERRYKEEL FARM: logo for organic farm and product range.
MOTIVATIONAL WRITING™: logo for Valerie Haynes Perry's advanced writing programs.
A TASTE OF ORANMORE AND CLARINBRIDGE: Logo for a series of food and beverage events.
BLOOMFIELD FARMS: event invitation, A tri-fold invitation for the debut of a rustic, sustainable, and elegant event venue. Created concept, design and copy.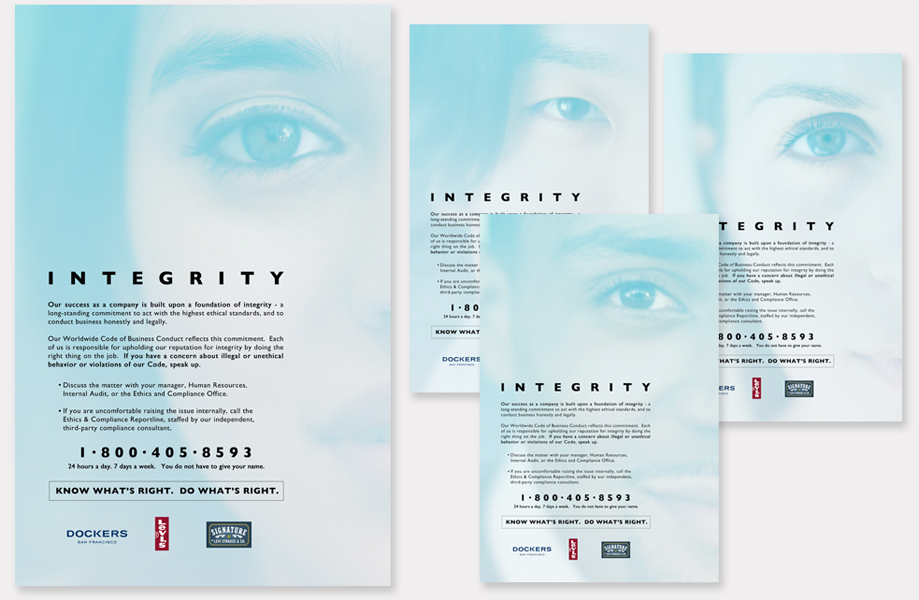 LEVI STRAUSS & CO.: "Integrity" - Poster series introducing a company ethics program. Created concept and design based on being able to look someone in the eye.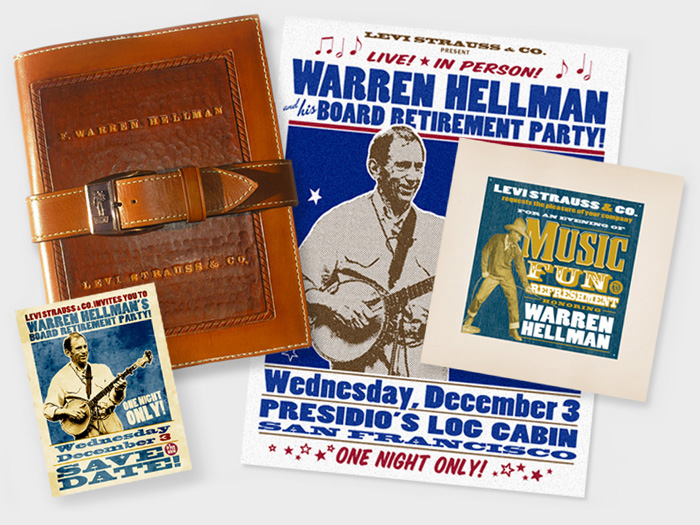 LEVI STRAUSS & CO.: "Warren Hellman Retirement Event" - includes 20" by 26" poster (printed on both standard poster board and archival cotton rag paper), save the date card, invitation and commemorative leather-bound, letterpress and silkscreened honorary resolution with hand-tooled western-style leather slipcover.
LEVI STRAUSS & CO.: "Warren Hellman Retirement Event" (book) - As part of this event commemorating Mr. Hellman's service to LS&Co., as well as his retirement from the board, I designed this leather-bound book, printed on archival rag paper with letterpress and silkscreen, then enclosed in a hand-tooled leather slipcover incorporating a vintage Levi's belt buckle.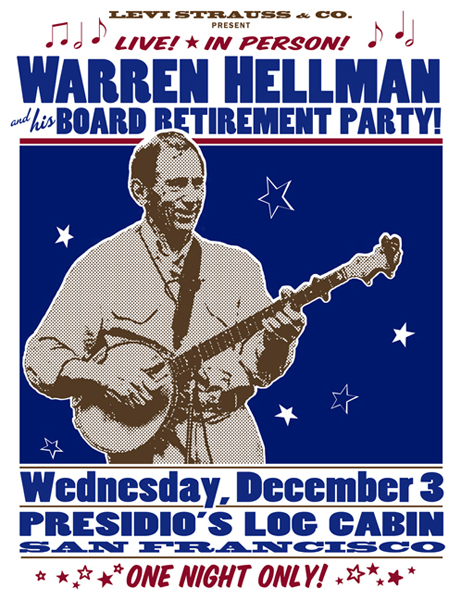 LEVI STRAUSS & CO.: "Warren Hellman Retirement Party" - 20" x 26" event poster reflecting Mr. Hellman's love of American roots music. Part of a larger media package.
LEVI STRAUSS & CO.: "Bob Haas Retirement Event" - featuring three 6' by 4' multi-tiered wall constructions depicting the career of Board Chairman Bob Haas, and an archival-qualtiy leather bound honorary proclamation printed on both letter press and silkscreen.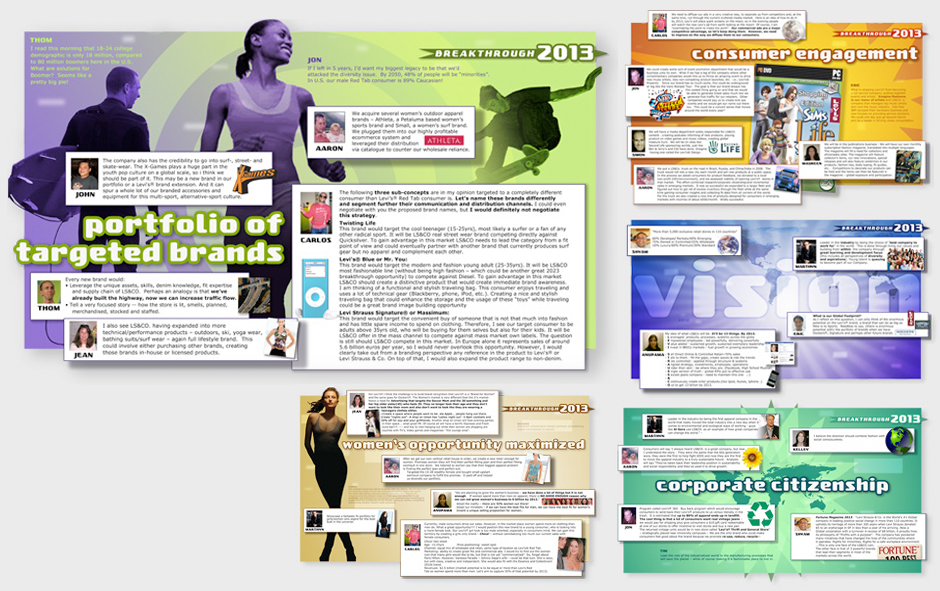 LEVI STRAUSS & CO: "Breakthrough 2013" - A set of five 6' by 4' multi-tiered wall constructions depicting the results of a social media-driven employee input campaign.
JACKIE OLD: e-book cover, published April 2014. Written in1980, it tells the tale of yes, that Jackie, venturing to a quake-ravaged San Francisco to stave off an attack of fundamentalists.
MEMBERS: book cover, published 2012. Set in 1970's New York, this is the story of a gifted young black girl's education in an all-white school.
SPARK OFF ROSE: Logo redesign - Spark Off Rose is a Los Angeles-based performance series where writers read their true stories before a live audience. They wanted to avoid the usual electric and fire connotations, but convey the idea that stories help build communities. I used a shape that connotes the word going out into the world, but also inverts the possessive aspect of an apostrophe. It also looks like a word balloon. This is the first part of a total identity re-build, including a website re-fresh, and printed materials.
YOUR CUP A simple sign for coffee shops and other businesses serving beverages that offer discounts for bringing your own cups. Created for the Kinvara Plastic Free Challenge.
1
2
3
4
5
6
7
8
9
10
11
12
13
14
15
16
·
·
·
·
·
·
·
·
·
·
·
·
·
·
·
·